Gone are the days of seeing firework displays only around the 4th of July. While this is still our busiest season, each year we see an increase from businesses and individuals utilizing the draw of a firework display. Be it for crowd retention, a token of appreciation to guests, delivering a message, or planned photo opportunities… The only limitation on utilizing fireworks is your imagination!
WAYS THAT A FIREWORK DISPLAY CAN WORK FOR YOU!
Fireworks on your special day...
There have been weeks, months, or even years of planning that have gone into preparing for your wedding. You have spent the day making memories surrounded by the ones you love and those you care about. What could possibly make this day any better? A firework display or other pyrotechnic options are a great way to showcase a segment of your wedding. They can provide a beautiful photo & video opportunity. They are also a great way to thank your guests for being a part of your big day! Not sure what to get the bride & groom as a wedding gift? Give them something they will certainly never forget! Whatever the reasoning, we can design a show that will wow your crowd, provide you with plenty of beautiful backdrops for the newlyweds and guests to take photos against, all without overshadowing what the occasion is really all about… YOU! 
No two people are the same, and no two wedding displays are either. Some may prefer an outdoor aerial display after the reception, while others may dream about having their first dance with gerbs and fountains surrounding them. We will customize a show to your needs and make sure that your wedding is one people will be talking about for years to come!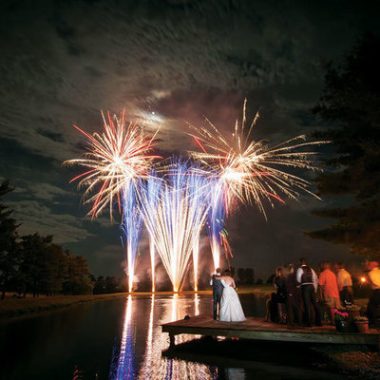 Not just a boom in the sky anymore...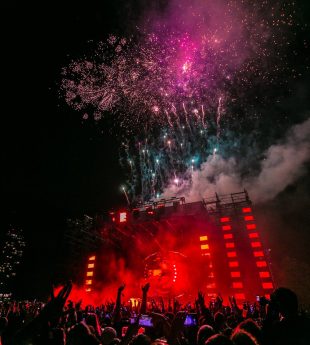 What better way to make a statement during your show than indoor or close proximity fireworks? These can get your crowds attention or direct their eyes and ears to a particular area that you choose. They can also emphasize the importance of your actions or movements. It helps immerse your crowd in the experience in a way that no other method can; utilizing almost all of the senses. The world of close proximity & indoor fireworks is one that is predicated on safety of the crowd, performers, and venue itself. Each device is specially designed and built to exacting standards, and then discharged with those same standards in mind. Special licensing and training are required to become an operator for these types of shows, and there is a very small group of pyrotechnicians who choose to obtain those. We here at IPC have multiple close proximity operators and are able to assist in making your performance truly one-of-a-kind!
When it comes to planning your event, getting people through the gate and keeping them there as long as possible is key. The more people who pay to enter, plus the longer you can keep your vendors open, the higher return on investment you should have. Those who are attracted to your promotion to begin with will come anyways. But what about those who are on the fence? Can they be swayed into coming? Once someone enters, how long are you able to keep them there, in turn resulting in higher sales? Customer attraction and retention are defined metrics that you can measure your success by. Here is where a fireworks display comes into play…
A firework display typically occur after dark and are the exclamation point at the end of an event. It's not too often that someone will come to an event and then leave before the fireworks display is over. Investing in a display will help ensure that those who are in attendance stay until the end, in turn possibly generating more revenue. There is a reason sports teams at all levels use a "Fireworks Night" promotion. Because no matter what happens during the game, those who paid to enter the gate are more likely to stay until the end. They also know people who would normally abstain will pay for a ticket if they feel they are getting a little "extra". Higher ticket sale numbers, higher on-site sales, and higher customer retention… all 3 keys to hosting a successful event. Let us help increase your revenue and custom tailor a show that is right for you.